Digital Dentistry
---
---
At Dentistry of Mendham, we use state of the art technology in our diagnosis and treatment procedures. Our Digital Smile Design and Digital Patient Monitoring Software integrate with our digital intraoral scanner to provide close, careful monitoring and accurate imaging for the best possible results.
DexCam 3 Intra Oral Camera
---
Allows our team to take intra-oral photos of your teeth and mouth to help illustrate your condition and educate you on available options. The images are instantly projected onto our chair mounted flat screen monitors for easy viewing. Being able to "see what we see" can help you understand dental problems and solutions like never before.
---
Trios 3D Color Digital Impressions
---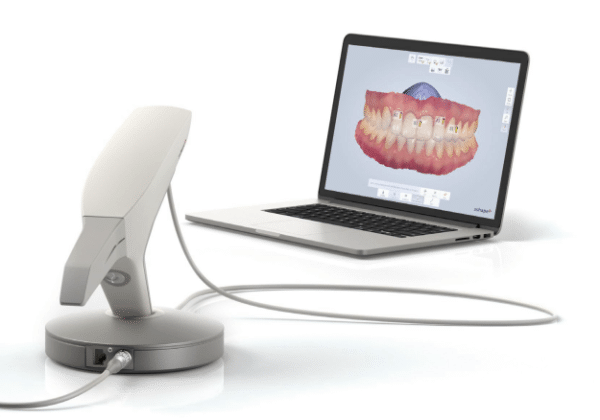 ---
We can avoid uncomfortable and messy x-rays and create full color Digital 3D impressions with the Trios HD color scanner by 3Shape. Our patients can have digital impressions taken of their mouths for crowns, bridges, implants, night-guards and more all without having a messy impression material in their mouths.  The Trios uses HD color photography alone to capture Thousands of HD photos per second to create a highly accurate 3D image of your teeth!
This state of the art technology allows us to eliminate physical impressions, one of the hardest parts of having dentistry completed according to many patients. We make a digital file of your teeth and securely upload it to our dental lab for fabrication of your dental restorations.  The Trios can also measure the shade of natural teeth to allow accurate shade matching for our dental labs.
---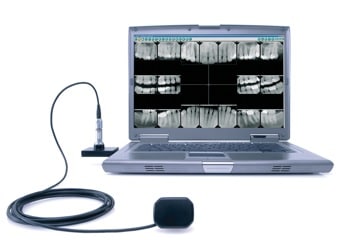 ---
Digital x-rays reduce the amount of radiation needed as compared to film x-rays.  The improved diagnostic capability of digital x-rays and the ability to view the x-rays on a computer screen allow the patient to better understand and follow treatment.
The images are captured on the sensor and projected on our computer monitors in 3-5 seconds! Additionally, the DEXIS sensor is shaped to fit comfortably in your mouth. NO more sharps edges cutting your mouth while having x-rays taken.
---
Painless Single Tooth Anesthesia with "The Wand"
---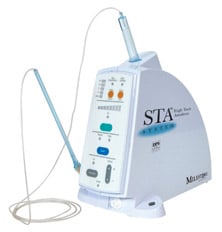 ---
Using the Single Tooth Anesthesia (STA) digital anesthesia unit and "The Wand" handpiece by Milestone Scientific, Dr. Rajan can painlessly deliver anesthetic to a single tooth and our patients can leave our office with no residual numbness in their lips, cheeks and tongues after having a dental procedure.
---
Isolite Illuminator
---
The Isolite Dryfield Illuminator is one of the most useful additions to modern dental treatment! We are excited to be able to offer this to our patients. This revolutionary device helps you rest your mouth open while also holding your tongue and cheeks away from your teeth while suctioning out water and debris created during treatment.
---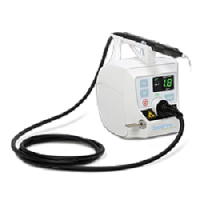 ---
The Sapphire Portable Diode Laser makes the benefits of laser dentistry available more patients than ever before. This technology allows us to complete minor sugical procedures in the soft tissues and gums with minimal bleeding and accelerated healing times. This replaces previous techniques that commonly involved using a scalpel or electrocautery unit to perform the same procedures. In addition, if you suffer from apthous ulcers, also known as "Canker Sores", the diode laser can be used to treat the ulcers and reduce healing time.
---
Electronic Medical Records (EMR)
---
Using Electronic Medical Records our practice is able to quickly and accurately access patient information in order to provide the utmost in patient care.  This helps to ensure patient confidentiality as well as reduce the need for paper.  Using a digital format allows for quick access to your information when needed for insurance records yet provides a secure filing system.
---
Ultra Quiet Electric Handpieces
---
These handpieces provide less vibration and noise than traditional dental drills. Not only are they quieter, but also more efficient in tooth preparation making dental procedures shorter and more manageable.
---
Piezo Electric Handpieces
---
Are used for periodontal (gum) and osseous (bone) surgery. These handpieces are gently and meticulously used to remove harmful bacteria without requiring invasive measures.
---
Digital Flat Screen Monitors
---
These monitors are found next to every patient chair. Patients can watch a movie or TV show. Patients can also view their dental radiographs when speaking to the doctor about the findings for a better understanding of their oral health.
---
Wi-Fi
---
Our office offers free Wi-Fi for our patients use while visiting our office.